Over the last decade or so, the concept of "creators" has taken a front-and-center seat in the economy. Creativity isn't new, nor is the dream to turn creative passions into financial security, but only recently has the path to success been so beautifully paved. The power and accessibility of social media, the decentralization of big media conglomerates via the internet, and the pandemic (which brought everything and everyone online) are a few reasons why the creator economy, also referred to as the "passion economy," is booming so wildly. Whether you're looking to explore your creative side or to supplement your income, now might just be the perfect time to make the leap into it.
Getting started as a creator can feel intimidating – we get that. When you look at other emerging and successful creators, you might think, "Where do I fit in?" But here's what's important to remember: You don't need to have millions, or even thousands of followers to start earning as a creator (quick fact: 67% of creators only have between 1,000 and 10,000 followers). You also don't need to quit your day job to be successful as a creator. Being a part-time creator can get you very far if you approach it strategically. Let's uncover how to get started on a winning foot.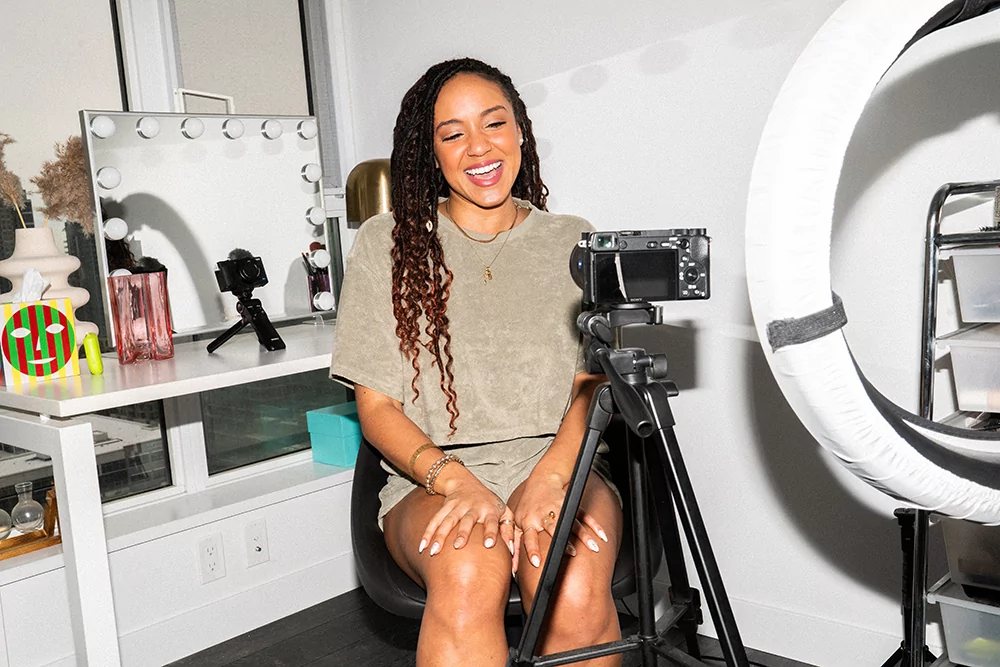 What is the creator economy?
The creator economy consists of a vast group of people with unique expertise, skills, and personalities who use digital platforms to build revenue streams. This can range from an Instagram influencer making sponsored content, to an artist creating downloadable stencil templates, to a personal trainer selling online fitness classes. The common thread is that they're all monetizing their content online.
While the concept of the creator economy is buzzworthy today, it's actually been brewing since the late 1990s with Web 2.0 and the rise of blogging platforms, which allowed early creators to build their own audiences. Fast-forward to today, digital creators are pretty much just another way of saying entrepreneurs. Whether they're invested full-time in the creator life, or have found a way to make bank online as a side gig, entrepreneurialism is at the core of the creator economy.
How big is the creator economy?
Believe it or not, there are more than 200 million creators in the worldwide creator economy, and it's worth about $250 billion. Not too shabby, and the market is only growing, meaning there's more space than ever for creators to earn money online. This includes creators of all kinds, including social media influencers, video creators, podcasters, bloggers, artists, course creators, and the like.
But where are all these creators sharing their content? Here's a breakdown of the preferred social media platforms derived from a 2023 survey:
TikTok (28%)
Youtube (23%)
Facebook (17%)
Instagram (16%)
Twitter (8%)
Other (8%)
According to the same report, TikTok and YouTube are currently the platforms that generate the most revenue for creators.
Who can become a creator?
The short answer is anyone! There's no job application. Your university degree doesn't necessarily matter here (well, unless you're selling your expertise as an academic). But really, anyone with the passion and motivation can become a creator. It all comes down to creating content that people want, while building a personal brand that people trust and believe in.
Those who'll see the most success are those who are genuine and honest. In a world of misused filters and Photoshop faux pas, people are done with smoke and mirrors — they want to connect with and spend on what's real.
What are different types of creators?
So, who are considered creators? Writers, illustrators, photographers, podcasters, videographers, comedians, and the list goes on. What they all have in common is that they're storytellers, creating either valuable or entertaining content that is shared via different digital mediums.
Not sure which creator type you want to be? Consider these two overarching categories:
Creator educators
Creator educators rely on their expertise and knowledge to generate revenue online. They develop content around a topic that they're skilled at, and that their target audience wants to learn about. It can be anything from social media strategy to a language to woodworking. Where there's an interest from a community to learn, creator educators have an opportunity to teach and share.
The most successful approach is making the expertise accessible by keeping things digestible and within reach. For example, breaking up a complex subject into bite-sized pieces, speaking as a friend rather than an expert, and helping your audience set realistic milestones are a few ways to be a successful creator educator.
Creator entertainers
These are creators who rely on their unique personality to attract viewers. They put out content that audiences enjoy viewing for entertainment's sake. We live to be amused, making this type of content endlessly profitable so long as creators continue to find new ways to charm and delight.
Whether it's children's content on YouTube (surprisingly a wildly successful pocket of the creator-entertainer economy) or podcasting your stream of consciousness on anything from pop culture to beauty, if you've got the gift of gab — something interesting to say, in an interesting way — you're a creator entertainer. 
How do creators make money?
This question pops up a lot: How can you monetize your content as a creator? Well, there are many ways!
The methods you choose will depend on the type of creator you want to be, the time investment you have, and where your strengths lie. Let's take a look.
10 Ways to make money online as a creator
1. Brand partnerships
Ever heard of influencer marketing? When a creator has an audience relevant to a brand, that brand might ask them to promote their product via their platform, for a fee. This can look like commission on all sales generated from the ad, or even leads acquired.
The trick here is to only partner with brands that you yourself would use and support, affiliating yourself with products that you believe in. Partnering with a brand for the sake of a buck will only cause friction in the form of "trust issues" with your audience down the line. Not worth it.
---
2. Earn ad revenue
Programs like Google AdSense allow YouTube content creators (who are part of the YouTube Partner Program) to earn money based on views to their content.
How does it work? For instance, advertisers can buy ad space on your YouTube channel to showcase their ads on your videos. So the more views you get, the more likely you are to earn some cash!
---
3. Start your own brand
We're seeing a movement towards creators building their own brands, not only relying on brand partnerships to earn a living. If you have an engaged community and are able to gauge what type of product or service your audience wants (via polling and surveying them), it's almost a no-brainer.
This type of entrepreneurial spirit is rampant in today's creator economy, and offers you complete control over the quality of your product.
---
4. Create and sell digital products
The beauty of selling digital products is that you only have to create them once, and then your sales are automated. Digital products can include templates, ebooks, and courses, no matter what niche you belong to.
Are you a food creator? Consider a virtual cookbook of your best recipes. Maybe you're a TikTok marketing guru and want to build a course on how to use the platform for beginners. If you're a graphic designer, consider creating an editable contract template for freelancers. Get the gist?
Because you only need to create the product once, we suggest pricing it on the lower end to increase sales (think volume!)
Not sure what to sell? Get 3 tips for picking a product that's right for you with our free digital product launch checklist.
---
5. Offer your time (1:1 consultations)
This is a more personal and time-consuming approach to sharing your expertise, suited well to those who enjoy working with people. Because it's 1-on-1 and your clients will be able to ask you questions specific to their line of work and unique scenarios, you can charge a pretty penny more than if you were templating your knowledge.
Marketing yourself will be key here. Build a landing page with a clear offering, collect testimonials from happy clients, and keep up with new training and courses in your area of expertise so prospects know you're committed.
---
6. Memberships and subscriptions
Paid communities are becoming increasingly popular. Offering more direct access to creators for their expertise or simply their entertaining content is an excellent way to earn revenue online. Whether it's a paid newsletter that offers exclusive content or a paid podcast with uncut episodes, the secret sauce to a successful paid community is value (information and expertise) as well as accessibility (easier access to you as the creator).
---
7. Affiliate marketing
This refers to promoting someone else's product or service to your audience on your own platform, and earning a commission on each sale. It can be a really lucrative way to earn money online, but it's important to affiliate yourself with brands and products that you stand behind and would actually use. There are more than enough opportunities for affiliate marketing out there with the right research, so don't fall into the trap of making a quick buck.
---
8. Create UGC for brands
UGC stands for user-generated content, and it's a really good option for creators who don't necessarily have a huge following. This approach to making money as a creator is more about being skilled at producing converting content, rather than community-building.
A UGC creator gets paid to create content about a brand's product for it to post on its own channels as a marketing tactic. It's meant to mimic the authentic "product review video" that influencers post on their own platforms. If you're comfortable on camera, like acting, and are willing to nurture your content creation skills, this could be for you!
---
9. Creator funds
Creator funds by platforms like TikTok reward creators for bringing traffic and engagement. It's more or less a way of giving creators a portion of the profits as a "thank you," because these platforms need these creators to succeed.
That being said, these initiatives have proven to be insufficient, as many creators have complained about small payouts. So, don't bank on this as a way to earn a living. It's more of a nice-to-have.
---
10. Fan donations and tips
When you have a loyal fan base who are grateful for your content, they'll sometimes want to pay it forward with donations or tips.
Check out platforms like Buy Me a Coffee (suitable for all sorts of creators), Patreon (a popular membership platform where fans can leave a donation or subscribe for exclusive content), and Ko-fi (essentially a digital tip jar for one-time tips or digital subscriptions). When you put in the hard work to be a consistent source of knowledge or entertainment, leave it up to your community to say thanks.
5 Tips to help you start earning
No matter which route you take, there are a few fundamental pointers to keep top of mind as you begin to solidify your personal brand and claim your space in the creator economy.
1. Find the gap
Don't do what everyone else does in the same way they're doing it. Take your time to learn what's missing in the market, and fill that gap with a unique offer and voice.
2. Understand your audience
To take the guesswork out of what people want, just ask them. Being able to curate both your free and paid content to their exact wants will ensure brand affinity and even sales.
3. Be consistent
If you want to stay on people's radar, you need to be consistent with posting your content. Get into a cadence that works for you and stick to it. Don't just post to post, post to bring value and remain top of mind.
4. Be real
Authenticity is gold in the creator economy. People want to relate to someone real who shares the same struggles and knows how to get vulnerable, because that's what being human is all about.
5. Never compromise your integrity
Even if a brand dangles a well-priced carrot, if it doesn't align with your personal values or connect to your brand's vision, don't take them on. Your audience will sniff that out easily and may even take a hike.
20 Creator economy startups you need to know
As the creator economy continues to skyrocket, a crop of tech startups have emerged with the intent of helping creators grow and monetize. From subscription and e-commerce platforms to generative AI tools, there's a huge opportunity for companies to capitalize on the many, many needs of content creators.
These new creator economy startups provide the resources that creators need to simplify their day-to-day, and build more lucrative businesses all around. We don't doubt that more startups will continue to pop up, so keep an eye out for the new creator tech on the horizon.
In the meantime, check out this list of popular creator tools:
Fan monetization and membership platforms

Link in bio tools
E-commerce tools
Generative AI tools
5 Creator economy trends to watch in 2023
2023 will be an interesting year for the creator economy. While it is growing, it's branching into a different direction as we collectively experience some challenging times in our dwindling economic environment. This means a decrease in marketing budgets and an increase in layoffs. What can this mean for creators? Let's look into a few trends to watch out for this year.
1. Decrease in advertising spend
With the fear of an imminent recession, some industry experts predict that there'd be a decrease in spend on advertising and brand sponsorships. This means that creators should be looking elsewhere to monetize, diversifying their revenue streams, and flexing that entrepreneurial muscle. Think launching a membership site, creating and selling your own digital products, or starting your own business as an extension of your brand.
2. More people will become part-time creators
2023 will see a shift for some from working full-time as a creator to part-time, in order to diversify income streams and earn a stable enough income to traverse the recession.
People need to feel secure in their finances today, and that means mitigating risk by enjoying the creator life as a side hustle, without putting all your eggs in that basket. It might not be the right time to leave your 9-5, but that doesn't mean you can't put your creativity to work on your off-hours. Where there's a will, there's a way.
In fact, the extra revenue earned from your digital products, for example, will go a long way. So while we'd typically say "think big," we think now is the time to "think smart" and look for low-budget ways to automate your income online.
3. The rise of generative AI tools
AI is shaking up nearly all industries right now. The rise of platforms like ChatGPT have changed the face of content creation overnight. Writers can whip together articles much faster, while video creators can now upload their content into any language in their own voice, granting them the opportunity to reach tons of new audiences.
Business Insider explains that "the biggest impacts on this segment will be in expediting the content creation process, facilitating brand-creator sponsorships, driving investment growth, and acting as the catalyst for more creative tools from social platforms." For some, it's a dream come true, while others do fear that AI might replace their jobs. Consider it a catch-22 with pros and cons on both sides of the coin, though it's not going anywhere.
4. Short-form vertical video continues to reign supreme
According to Antler, the average consumer spends 95 minutes browsing short-form video content every day on platforms like TikTok, Youtube, and Instagram. Vertical videos in particular are deemed the more engaging format.
Short-form videos are easier to create than long-form, and they offer bite-sized content for busy or distracted viewers to consume more organically in their day. Because it's short and sweet, make sure it's packed with value as well.
5. Social media platforms will need to better reward creators
The concept of creator funds was great in theory, but it bombed in action. Creator funds on TikTok, Instagram, and Snapchat were generally unsuccessful. And though platforms like YouTube Shorts have started sharing ad revenue with creators this year, long-term results remain to be seen.
Regardless of their effectiveness, these rewards are meant to be a way for these apps to show their appreciation for the creators who bring so much action to their platforms. We're hoping that 2023 will bring forth more intentional monetization programs that actually make a difference for creators.
Don't sleep on the creator economy
So that's the lowdown on the creator economy. As you can see, there's a lot going on, including potential for entry and success. As a reminder for those who are hesitant: you don't need to have millions of followers, or put in thousands of hours or dollars to start making money online as a creator. Build a personal brand that people trust, with an offer that brings value and a voice that resonates. It's time to make the leap!
Want more tips for making money in the creator economy? Grab our free guide on 12 ways to make your first $100 online to get inspiration from a dozen creators.
FAQ
What is the creator economy, and how big is it?
The creator economy refers to a vast group of people with unique skills and personalities who use digital platforms to build revenue streams. There are currently more than 200 million creators in the worldwide creator economy.
How much is the creator economy worth?
The creator economy is currently worth approximately $250 billion, and counting.
How can you make money in the creator economy?
There are many ways to make money in the creator economy. Some ways include:
Brand deals and partnerships
Earning ad revenue
Starting your own brand
Selling digital products
Offering your time for consultations
Memberships and subscriptions
Affiliate marketing
Creating UGC for brands
Creator funds
Fan donations and tips
Follow The Leap on TikTok, Instagram, and YouTube for more creator economy news. We also make a newsletter.
---
Further reading